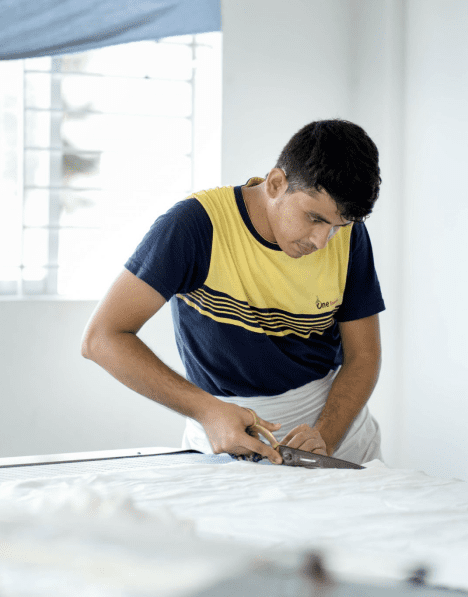 About Renaissance Group
Renaissance Group is a conglomerate that emphasizes a variety of business activities with a major concentration in ready made garments manufacturing. 
It is operated by young professionals who aspire to produce the finest products on time for its global clients. The fundamental focus of Renaissance Group has always been on refining the quality and maintaining harmony with clients, employees, and everyone involved in the journey.
Our Mission
We are committed to our customers, employees, and our society.
To our Customers: 

We aim to satisfy our customers by providing on-time delivery of quality products & services.

To our Employees:

We aspire to create a positive work environment that complies with both national and international policies.

To our Society:

We aim to create a better tomorrow.
Our vision
To create a positive future through innovation.
Company Timeline
1999
The Beginning
Renaissance Group Started It's Journey in 1999 with a small office in Dhaka, the capital city of Bangladesh. Araf Apparels was the first venture of Renaissance Group. Other Ventures during the 2000 to 2005 were, Pandora Fashion, Millenium Textiles, Anam Clothing and Southern Garments
2010
Expansion and Growth
The Group Governance started from 2010. During the time of 2010 to 2015 the following expansions and growth initiatives took place. Initiating the Renassiance Barind Limited project in 2013 Start of Radio Dhol in 2013 Barind Medical College in Rajshahi Started in 2011
2015
Consolidation and Exploration
Start of Renaissance Barind Limited in 2018 the first Green Factory in EPZ Ishwardy Start of Renaissance Designs Limited in 2016 Rajshahi Kings – The BPL Team in 2016 Start of Duronto TV in 2018 the first Children's TV in Bangla Language
2020
Diversification
Aukro Retail – the first local wholesale brand of clothing for children. Initiation of Renaissance Calzolio, the first shoe factory in the Group
Company Timeline
1999
The Beginning
Renaissance Group Started It's Journey in 1999 with a small office in Dhaka, the capital city of Bangladesh. Araf Apparels was the first venture of Renaissance Group. Other Ventures during the 2000 to 2005 were, Pandora Fashion, Millenium Textiles, Anam Clothing and Southern Garments
2010
Expansion and Growth
The Group Governance started from 2010. During the time of 2010 to 2015 the following expansions and growth initiatives took place. Initiating the Renassiance Barind Limited project in 2013 Start of Radio Dhol in 2013 Barind Medical College in Rajshahi Started in 2011
2015
Consolidation and Exploration
Start of Renaissance Barind Limited in 2018 the first Green Factory in EPZ Ishwardy Start of Renaissance Designs Limited in 2016 Rajshahi Kings – The BPL Team in 2016 Start of Duronto TV in 2018 the first Children's TV in Bangla Language
2020
Diversification
Aukro Retail – the first local wholesale brand of clothing for children. Initiation of Renaissance Calzolio, the first shoe factory in the Group